Where in Cambridge is Congress being held?
A key element of Congress is taking every opportunity to get to know the city, and not staying put in one place because it's convenient. This includes using different venues that showcase different parts of Cambridge's story.
This year's main venues are the Museum of Zoology; Cambridge Union; The Guildhall; Corn Exchange; and Murray Edwards College.
You can find out more about these in this article, check out the programme at theaou.org/cambridge to see where they fit in, and see them on the map below.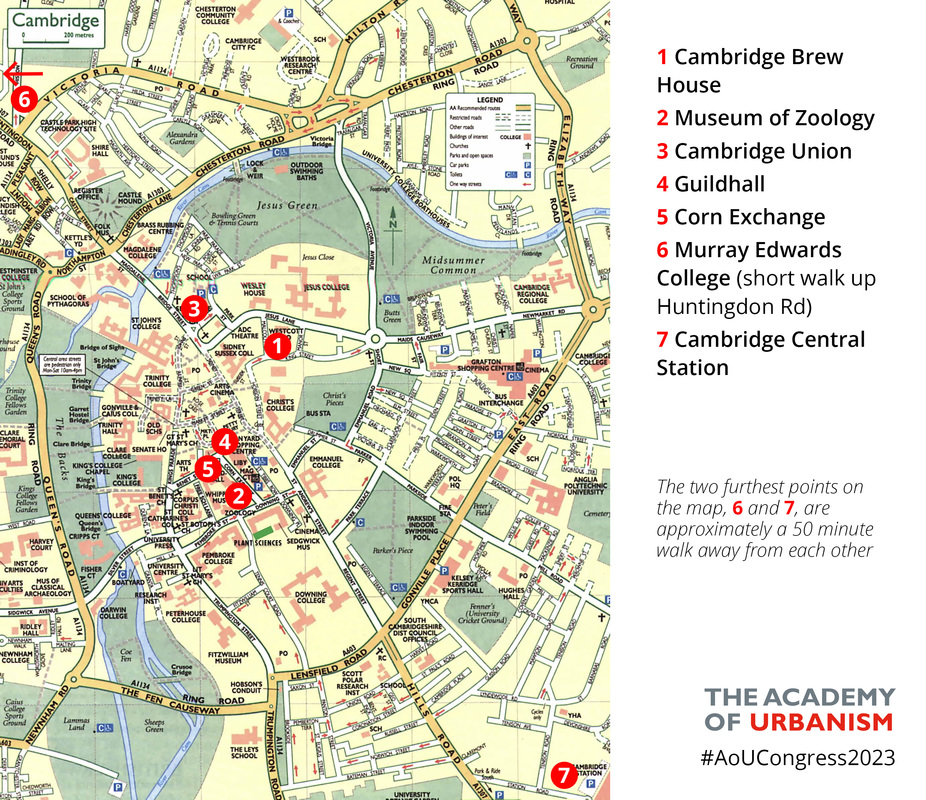 Is there a dress code?
There's no set dress code for Congress, but we encourage comfortable footwear as you are likely to be on your feet for parts of the day, such as tours and networking. According to BBC weather, we are forecast warm weather of around 25°C and possibly showers, so we encourage you to prepare accordingly!
If you are attending Congress Dinner, there is again no set dress code, but attendees do often choose to 'smarten up' for this final event in the programme. It is entirely up to you.
I haven't received a booking confirmation, am I coming to Congress?
If you have tried to book but haven't been sent a confirmation email from Eventbrite, your order may not have gone through successfully. Check your email's junk folder and contact AoU if you don't find anything.
Are there Congress hotels?
The Academy had secured rooms and rates at the Clayton and ibis by Cambridge Central Station available until the end of May. These are no longer available but there are many accommodation options in Cambridge - including budget hotels, guesthouses, and University colleges which you may like to explore as alternatives.
How do I get to Cambridge?
Cambridge has two stations, Cambridge Central Station being the main one. Central Station is around a 20 minute walk into the city centre, and the two hotels listed above are in this Station Quarter.

Cambridge Central Station is served by direct trains from cities and towns across the South East, including Brighton, London, Norwich, and Peterborough. Longer or more rural journeys that will require changes can be identified using websites like Rome2Rio and Trainline.
Stansted is the closest airport to Cambridge, and both Stansted and Gatwick airports have direct train services to Cambridge.
Given the scale of Cambridge, most locations are walkable and the city is full of cyclists too. Additionally, there is a bus network that can be explored using a map such as this one, or navigational apps like Citymapper.
There are also Park & Ride services from Babraham Road, Madingley Road, Milton, Newmarket Road, and Trumpington.
I booked a ticket but I'm no longer able to attend, can I get a refund?
If you wish to cancel your ticket, you can do so by emailing us or by requesting via Eventbrite. We offer a 94% refund, with approximately 6% of the overall ticket cost retained to cover Eventbrite fees.
When does Early Bird end?
Discounted Early Bird rates were available for Members until midnight on Tuesday 14 March 2023.