The Academy of Urbanism is a politically independent, not-for-profit organisation that brings together both the current and next generation of urban leaders, thinkers and practitioners, as well as organisations and individuals who support our mission.
If you would like to help us to recognise, encourage and celebrate great places, and the people and organisations that create and sustain them, we encourage you to become a member of the Academy today.

If you have any question, please contact [email protected].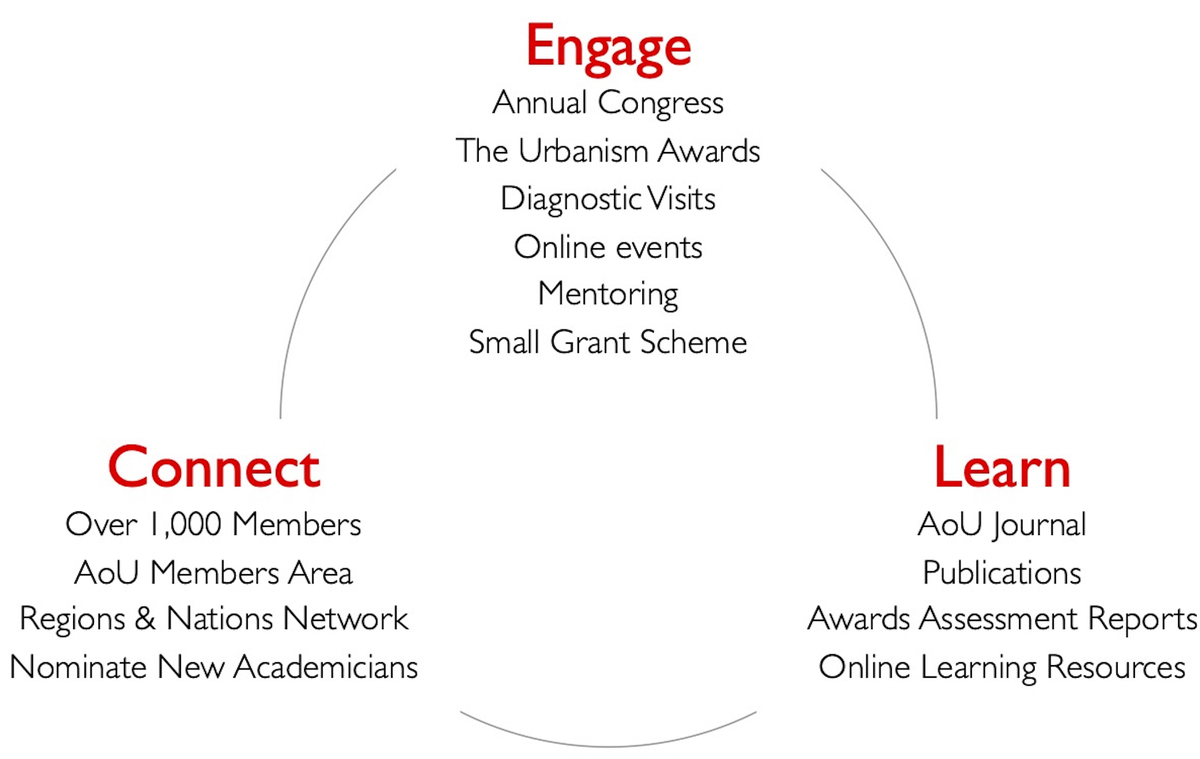 Benefits of joining
Academician

Young Urbanist

Individual
Member
Group Member
Access to informal networking forums
✓
✓
✓
✓
Access to the AoU Members Area
✓
✓
✓
✓
Engage with Regions and Nations network
✓
✓
−
✓
Nominate new Academicians
✓
−
−
−
Discounted or free access to major AoU events
✓
✓
✓
✓
Free access to The Urbanism Hour monthly webinar
✓
✓
✓
✓
Free listings on the AoU Jobs Board
−
−
−
✓
Get involved in The Urbanism Awards
✓
✓
−
−
Opportunity to be published in AoU literature
✓
−
−
✓

Participate in Diagnostic Visits
✓
−
−
−
Plan/ Chair or Speak at an online event
✓
✓
−
✓

Mentoring Scheme
✓
✓
−
−
Small Grant Scheme
−

✓
−
−
Influence the AoU areas of action and policy
✓
−
−
−
Monthly AoU newsletters
✓
✓
✓
✓
Discounts on selected publications
✓
✓
✓
✓
Full access to the AoU Learning materials
✓
✓
−
✓
Partial access to the AoU learning materials
−
−
✓
−
Use of the 'AoU' post-nominal letters
✓
−
−
−