Candidate: Leith Shore
Location: Edinburgh, Scotland
Category: The Great Neighbourhood Award (Winner)
Year: 2023
Other finalists in this category: Balsall Heath, Birmingham

Judges' comments:
"Leith Shore is a prime example of the roles connectivity and community play in the success of a neighbourhood. The Leith Connections Project, alongside the new Edinburgh tram extension, and prioritisation of active travel are helping create rapid, sustainable transport links. Meanwhile the strength of community interest and the shared objectives of the Council have created a strong environment for community wealth building - from public realm improvements to youth centres and accessibility initiatives. 'Leithers' are rightly proud of their heritage and the work being done, and the area is decidedly on the way up." - Carol MacBain AoU, Great Neighbourhood Lead Assessor
Introduction
Leith was historically a distinct town and functioned as the port for Edinburgh, trading with the Hanseatic League, and a home for maritime industries, including shipbuilding, storage and whaling. Located on the shores of the Firth of Forth, at the mouth of the Water of Leith, it sits some 2 miles east of Scotland's capital, Edinburgh. The area's original harbour dates from the 14th century.
Leith's population is a diverse one as can be witnessed by the numerous buildings serving different faiths in the locality – Sikh and Hindu temples, mosques, etc. It served as a port of call for immigrants, many of whom stayed in the area.
As with many industrial areas it suffered decline in the 20th century but following various central and local initiatives, began its steady revival from circa 1980 onwards. As well as longtime families in the area it has experienced an influx of new residents to occupy converted industrial buildings as well as new developments. It retains much of its gritty industrial / harbour appearance whilst accommodating many service industries attracted to a less traditionally corporate location.
It can now boast an individuality whilst connected to the sea and by rapid transit trams to Edinburgh city centre and the airport.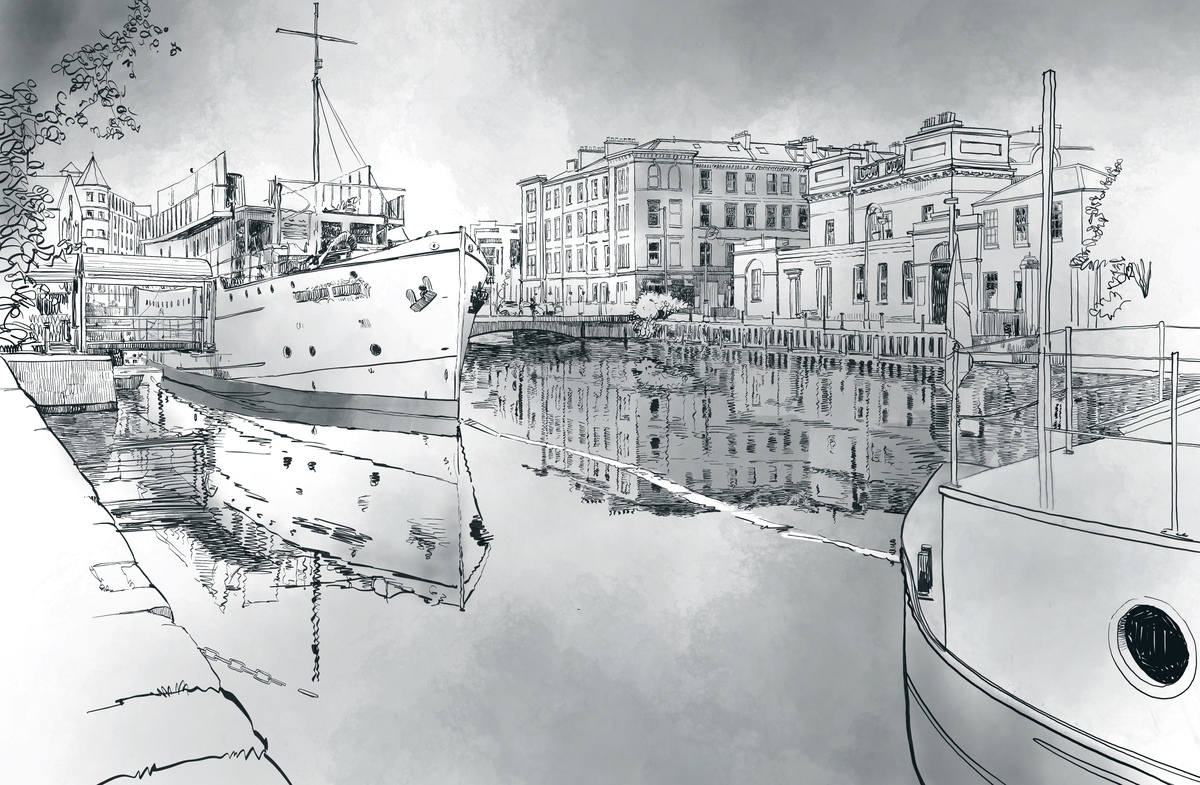 Leith Shore illustration by David Rudlin AoU, Artist-in-Residence