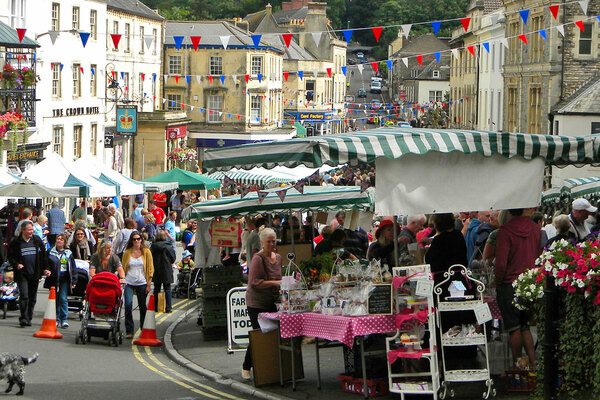 The Frome Independent, UK
(image from Archangel, Frome)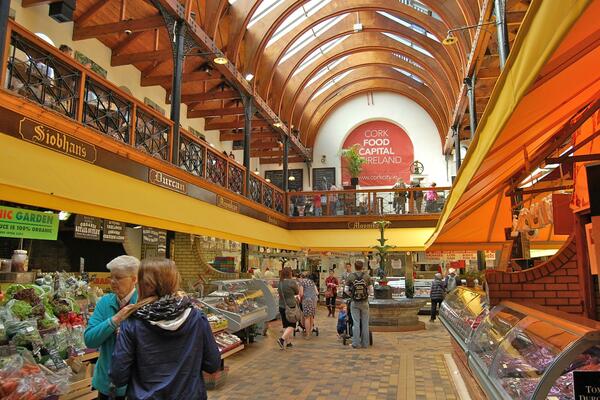 The English Market, Ireland
27 January 10:00 - 16:00, Online: Zoom
This one-day conference from The Academy of Urbanism will look at the economic, cultural and social advantages that come from a range of urban markets. We will explore and learn from case studies where declining markets have been revitalised and new markets created as centrepieces of new and existing neighbourhoods.
Since the dawn of trade, markets have driven social and economic interaction the world over. From the Bazaars of the Middle East to the Mercado in Spain, they have attracted all aspects of society and have been the foundations of many of our villages, towns and cities.
Despite significant threats to their survival, the allure of the market is as strong today as ever, especially as places compete to offer a USP. Indeed, in many of the Great Places shortlisted for the Academy's Urbanism Awards there is often a market to be found that is a reflection of local culture, identity and people. This is the enduring nature of markets.
They represent some of the most practical and adaptable spaces, evolving to the needs of the local population and, in many cases, international visitors who come in search of authenticity, provenance and new experiences. From Les Halles de Lyon - Paul Bocuse Market, in Lyon to Time Out's series in places such as Boston, Lisbon and Miami, this adaptability has ensured that markets hit the zeitgeist of the day and have a huge and positive impact on their towns and cities.
Beyond the Instagram-friendly destinations, many markets continue to fulfil an important and everyday role for a large section of society, selling affordable and often healthy produce and creating much-needed social connections across and within communities.
However, despite their longevity and adaptability, what is the future for the market? Will they continue to be places where new businesses start, entrepreneurs thrive, and meritocracy prevails? Can their success lead the re-birth of the high street and in turn provide the focus for the future of our town and city centres? Or will they fall victim to the convenient online market places such as Etsy, Not on the High Street, Amazon and Ebay?
Join the Academy for this exploration into the past, present, and future of markets. Hear from experts, operators and designers with real case studies on the wider economic, cultural, and social impact of markets, and what it takes to rejuvenate or create one from scratch.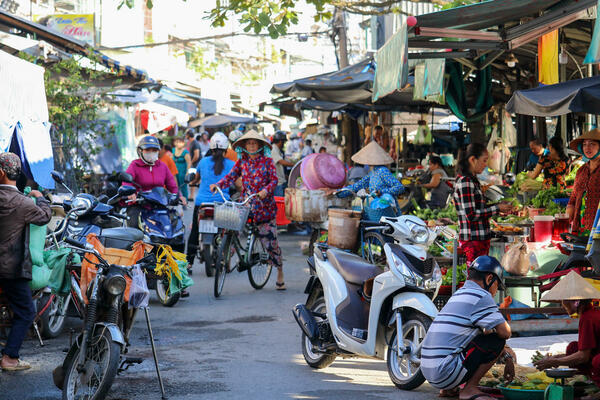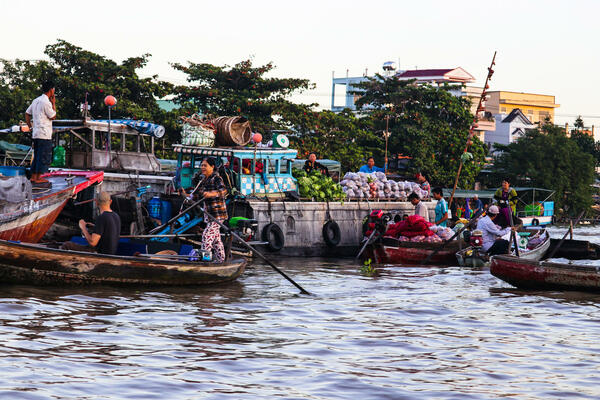 Cai Rang Floating Market, Vietnam
(images by Cailin Murphy)
Programme
09:55
Zoom Room Opens
10:00
Welcome and Introduction from Jas Atwal AoU, Vice-Chair of The Academy of Urbanism
10:05
SESSION 1: CONTEXT
Chaired by Jas Atwal AoU, Vice-Chair of The Academy of Urbanism

Public Markets and Civic Culture
Dr Helen Tangires, Center Administrator, National Gallery of Art, Washington, D.C.

Urban Markets
Kate Howell, Board Member, The National Association of British Market Authorities; Director of Communications and Engagement, Borough Market

Culture, Community, Cohesion
Anwar Akhtar, Founder and Director, The Samosa Media

Q&A
11:00
Break
11:15
SESSION 2: SOCIAL AND CULTURAL ROLE
Chaired by: Georgia Butina Watson AoU, Professor of Urban Design, Oxford Brookes University

Frome - Changing Role of Markets
Tabitha Clayson, Creative Director, Frome Independent

An insight into Cork's iconic English Market, perhaps one of the oldest indoor municipal markets in the World
Nuala Stewart, Cork City Council

Govanhill Community Market, Glasgow - Hyperlocal Community Action
Dana Cherepkova, founder and coordinator of Govanhill Community Market by G42 Pop-Ups

The Revitalisation of Markthalle Neun, Berlin
Florian Niedermeier, Co-founder, Markthalle Neun Berlin

Q&A
12:30
Lunch
13:00
SESSION 3: DRIVING THE ECONOMY - INNOVATION, TALENT, REGENERATION
Chaired by Michele Grant AoU, Director, The Academy of Urbanism; Associate Director, Blue Sail

Space, Time, and Public Markets Two Stories from New York


Robert LaValva, Placemaking Consultant, New York

Regeneration: Borough Market
Kate Howell, Director of Communications and Engagement, Borough Market; Board Member, NABMA

It's About Control (Spitalfields/Camden Market)
John Burton, Project Manager, Urban Space Management

Q&A
14:00
Break
14:15
SESSION 4: DELIVERING NEW MARKETS
Chaired by Andrew Bailie YU, Partnership and Marketing Lead, Venture Studio from Crisis

Milton Keynes – role of markets in New Towns

Tim Roxburgh, Special Projects Director, Milton Keynes Development Partnership

The Victorian Market, Inverness – Reimagined
David Haas, Inverness City Area Manager & Jo Murray, Inverness Market Manager, Highland Council

From a Borough Market's trader perspective
Samantha Wallace, Co-founder, From Field and Flower

Q&A

15:15
KEYNOTE ADDRESS
Introduction by Georgia Butina Watson AoU, Professor of Urban Design, Oxford Brookes University

Hanoi Markets
Steve Davies, Affiliate, Project for Public Spaces


16:00
Closing comments
Jas Atwal AoU, Vice-Chair, Academy of Urbanism

Speakers Confirmed:
Anwar Akhtar
Founder and Director, The Samosa Media
Anwar grew up working on various Manchester markets in the 1990s inc Ashton, Hyde and Longsight. He then went on to work as a DJ, film and theatre producer, was Director of Rich Mix London and is Founder / Director of, The Samosa Media, an arts and media charity. Using the arts, film and media The Samosa promote education, learning, community cohesion and intercultural dialogue, as well as providing spaces to explore cultural and social issues impacting communities. He led The Royal Society of Arts & Commerce Pakistan Calling www.pkcalling.com project, which produced over 60 films looking at identity, education, equality, culture, religion, development, conflict resolution, women, and minority rights in UK and Pakistan.
Jas Atwal AoU
Vice Chair, Academy of Urbanism & Director, Kevin Murray Associates

Jas Atwal is an experienced and accomplished engagement specialist, event organiser and training provider who has been involved in a wide range of projects in the fields of regeneration, planning, urban design and community development Jas has worked on many city visioning exercises, garden towns and village proposals, neighbourhood regeneration schemes and large-scale transformational projects such as the London 2012 Olympic Games and the Birmingham Commonwealth Games Village. Jas has also curated the Academy's high profile international Congress, since 2010.

Andrew Bailie YU
Partnership and Marketing Lead, Venture Studio from Crisis
Andrew leads on partnerships and marketing for the Venture Studio, with a focus on exciting new founders and ideas. His background is in social enterprise and housing policy, particularly around sharing promising opportunities for change. Prior to Crisis, Andrew built partnerships at Farewill; an award-winning, VC-backed start-up, working on the complex, emotional topic of death and legacy donations. He is doing a degree in Sustainable Urban Development, keen to learn more about the intersections of housing justice, climate adaptation, and healthy cities.
Professor Georgia Butina Watson AoU
Professor of Urban Design Oxford Brookes University
Georgia Butina Watson is Professor of Urban Design in the School of the Built Environment at Oxford Brookes University. She is also an Academician and Regional Convenor of the Academy of Urbanism (Oxford region), and is a Fellow of the Royal Society of Arts. She was Head of the Department of Planning and Urban Design at Oxford Brookes University and chaired various UK Research committees and jury panels including the National Urban Design Group Book Awards scheme. Georgia has extensive teaching, research and consultancy experience in urban planning and urban design and she has published and co-authored a number of journal articles, research reports and books.
John Burton
Project Manager, Urban Space Management
John is a chartered surveyor specialising in regeneration projects. He joined USM in 1994 to help finish building the Market Hall in Swindon, which he was responsible for over several more years. He is part of the management team running Trinity Buoy Wharf which is a centre for arts and cultural enterprises in London's Docklands. His work there includes converting former shipping containers into workspaces, lettings, estate management and programming a wide range of public events and exhibitions.
PreviouslyJohn ran/was involved with Greenwich Market, Gravesend Charter Market and Sneinton Market (Nottingham). He has undertaken a wide range of consultancy studies, was a member of the GLA's first London Markets Board and is a member of the GLA's Town Centre expert panel specialising in retail markets. Current market-related consultancy work includes Birmingham Markets and Rathbone Market in Canning Town where he is a long-standing consultant to MUSE/ECf. Past studies include Romford Market, LB Wandsworth Markets, Borough Market, Golborne Road Market, Woolwich Market, Deptford Market, Barking Market, Seven Sisters Market, Derby City Council and mentoring at Wood Street indoor market.

Dana Cherepkova
Founder and coordinator of Govanhill Community Market by G42 Pop-Ups
Dana coordinates Govanhill Community Market, which is run in partnership with local charities GAMIS and Govanhill Baths Community Trust. It aims to strengthen connections between diverse communities of Govanhill, support the local economy and activate underused parts of the neighbourhood.

Dana currently works with O'DonnellBrown Architects in Glasgow as a Part 2 Architectural Assistant where she works on private houses, small sheltered housing developments for Barnardo's charity, café interiors with bespoke joinery and outdoor community classrooms. Previously, she worked in architecture practices in Edinburgh, Copenhagen and Moscow. She actively works to support community engagement in place making and is a co-founder of Un/Common Glasgow group - participants of the Architecture Fringe 2019 programme.
Tabitha Clayson
Creative Director of The Frome Independent
Tabitha is currently working as a Culture & Events Development Officer at Bristol City Council on a post-Covid economic recovery programme, Tabitha began her career as production coordinator for the art commissioning organisation, Artangel and then worked freelance for various artists, projects and organisations in London.
Relocating to Frome in 2002, she founded and co-directed Foreground, a visual art commissioning organisation in 2007, which produced projects for the public spaces and social structures of Frome. Foreground created a diverse range of projects working with artists such as Cornelia Parker, Bob & Roberta Smith & Richard Woods,
In 2013 Tabitha took on the creative production and management of the pilot monthly Sunday market that had expanded to run throughout Frome town centre. Rebranding it as The Frome Independent in 2014, it is now an award-winning contemporary destination market that attracts over 80,000 visits per year and draws an estimated £3,000,000 into the town.
Steve Davies
Principal, Place Solutions Group, LLC; Co-Founder, Project for Public Spaces; Affiliate, Market Cities; President, The Placemaking Fund; Visiting Assistant Professor, Pratt Institute of Architecture.
Stephen (Steve) is an advocate for public spaces, placemaking, and public markets and formed the Place Solutions Group in 2018. His work takes him around the world (online and hopefully in person soon!) as a consultant, facilitator, educator, researcher, and speaker. Today, much of his work as a consultant focuses on public markets and the role they can play in building community, and how placemaking supports local economies.
Steve joined the then-fledgling Project for Public Spaces (PPS) in 1978 and guided the development of the organization for 40 years as a member of its senior leadership team, helping to build PPS into an organization with remarkable depth and influence. It was in this capacity that he became one of the world's experts on public spaces and their contribution to the revitalization of cities and communities.
Steve currently serves as President of The Placemaking Fund and is a member of the advisory board of PlacemakingX, a global networking organization that is a program of the Fund. He writes frequently on markets and public spaces issues for the Social Life Project a second program of the Fund. He is also a member of the Advisory Board for Public Spaces for City Space Architecture based in Bologna, Italy.
Michele Grant AoU
Director, The Academy of Urbanism and Director of Bluesail
Michele has built her professional reputation around futures planning for places and organisations, working predominantly in the tourism and cultural sectors, taking a strong place-based approach. Her natural working environment is at the heart of small creative teams and she has worked at Director-level in consultancy for over 20 years predominantly for public sector clients across the UK and Ireland. She has taken a step back from consultancy to create time for other ventures and remains an Associate Director for Blue Sail. She sits on the Board of Directors of the Academy of Urbanism and has led the Academy's Great Towns Award for several years.
David Haas
Inverness City Area Manager, Highland Council
David started life as a Solicitor in London, who foolishly thought that coming to the Highlands of Scotland with his family of one very patient wife and two basset hounds would lead to a quiet life!!
David requalified as a Scottish Solicitor in 1992 and has worked in local government in the Highlands since 1994. He has covered many roles, such as Clerk to the District Court and Licensing Board and now as Inverness City Area Manager, has a wide ranging brief. The role involves being principal advisor to 23 Councillors and working closely with a broad range of partners in the public and private sector. The focus is on empowering and enabling communities to use resources in the best way possible themselves ensuring that the Council's operational services meet those needs as best they can. David's responsibilities extend to ensuring that the Inverness Common Good Fund helps deliver a strong and vibrant future for Inverness.
Kate Howell
Director of Communications and Engagement, Borough Market
Kate has more than 20 years' experience of strategic communications at a senior level. She started her career in central government, with stints in several key departments, and has also delivered campaigns for BBC Vision and the Reed Recruitment Group.
Kate has been leading Borough Market's strategic communications for the past decade, in which time she has been responsible for establishing the Market's engagement strategy and developing the brand across multiple platforms. She is a member of the Chartered Institute of Public Relations and sits on the boards of the NABMA and Better Bankside
Robert LaValva
Placemaking Consultant, New York

Robert is a placemaking consultant and creative director who builds connections between food systems, economic development, and public space. He trained as an architect at the Harvard Graduate School of Design and began his career in New York City, where he helped create and implement the nation's largest urban composting program. In 2005 he established New Amsterdam Market, a reinvention of the public market dedicated to promoting sustainable food businesses and revitalizing New York's oldest commons, on the East River waterfront in lower Manhattan. Robert works with government organizations, cultural institutions, and the private sector. His clients include the New York City Economic Development Corporation; The Thomas Jefferson Foundation (at Monticello); the Durst Organization; and the Lower Manhattan Cultural Council.

Jo Murray
Market Manager of The Victorian Market in Inverness

Jo is the first appointed Manager for the Victorian Market in Inverness. Since 2017 her focus has been on delivering an Action Plan of change and development, on behalf of the local authority, of a locally loved Market which was underutilised and identified for change. Previously, as Visual Manager for Debenhams and House of Fraser, Jo has worked throughout the UK and Internationally on refurbishment projects, product launches, events, and new store openings; with direct influence on national policy and decision making. As part of the Senior Management team with National retailers, which were the most sustainably profitable in their Region, in Inverness for 25 years she has a specific understanding of the local area and retail dynamics unique to the Highlands.
Florian Niedermeier
Co-founder, Markthalle Neun Berlin
Florian Niedermeier was born in the city of Augsburg in 1967 and has been dedicated to food ever since. He studied "Applied Cultural Studies" writing his Masters thesis on sustainability in food retail. Florian always dreamed of running his own market hall but did not see this as a possibility. That led him to open up a small food shop specialising in Alpine food with his partner Bernd Maier in Berlin. When the city of Berlin decided to sell their remaining market halls in 2009, Florian and his business partners made an attempt to live out their dream in Markthalle Neun Berlin.
Tim Roxburgh
Special Projects Director, Milton Keynes Development Partnership
Tim Roxburgh is a Chartered Surveyor who has significant property experience and in-depth knowledge of Milton Keynes. He has worked for public and private sector organisations including Letchworth Heritage Foundation, the Homes and Communities Agency (HCA) and Lambert Smith Hampton

Nuala Stewart
Administrative Officer, Cork City Council
Overseeing the operation of Cork's iconic English Market is a relatively new role for Nuala especially in the context of the market's 230-year history. Her three-year tenure in the role has been filled with challenges as well opportunities for the market's management, it's traders and Cork City Council as custodians. But having survived war, flood, famine, fire and multiple recessions we can now add global pandemic to the list of crises the Market has weathered and learnt from.
Nuala's own career spans over twenty years in the public sector, primarily in the field of Economic / Community Development, and Regeneration both in Ireland and in the UK. She is passionate about partnership working, citizen engagement and strengthening communities. She grew up in the Northwest of England so is no stranger to urban markets and their valued contribution to communities.
Helen Tangires
Center Administrator, National Gallery of Art, Washington, D.C.
Helen is Administrator of the Center for Advanced Study in the Visual Arts, at the National Gallery of Art in Washington, D.C., where she has been employed since 1987. She holds a Ph.D. in American Studies from The George Washington University. She is a frequent contributor to books and journals on urban foodways and has authored three books: Public Markets and Civic Culture in Nineteenth-Century America (Baltimore and London: Johns Hopkins University Press, 2003); Public Markets, Norton / Library of Congress Visual Sourcebooks Series in Architecture, Design, & Engineering (New York, 2008); and Movable Markets: Food Wholesaling in the Twentieth Century City (Baltimore: JHUP, 2019), the latest volume in the Hagley Library Studies in Business, Technology, and Politics series.
Samantha Wallace
Co-owner of From Field and Flower.
Samantha and her husband Stefano started From Field and Flower in 2013, bringing the finest raw honey from Piedmont, Italy (where Stefano grew up), to London. Specialising in passionate producers who work in harmony with their bees and the seasons, they started with a small range, trading on Sundays at East London's Chatsworth Road market. In 2014 they joined Borough Market. Since making the Market their home from home, From Field and Flower, now work with beekeepers from around the world, sourcing some of the best and most interesting honeys for their stand. They now stock around 15+ varietals of honey, and trade in Borough Market seven days a week. In 2021, twin forces of Brexit and the Pandemic (and the acquisition of a long wished for dog), lead to Sam and Stefano expanding their business toa also include a range of high quality, natural pet treats.
Prior to starting From Field and Flower, Samantha worked 12+ years in strategic Internal Communications, working with CEOs and Leadership teams of multinational corporate companies, in sectors including Oil & Gas, Pensions and Insurance.