A former primary school teacher who has worked tirelessly to educate young people of the consequences of carrying knives led the accolades at this year's Urbanism Awards.

Yvonne Lawson, who set up the Godwin Lawson Foundation in memory of her son, Godwin Lawson, was handed the Community Activist award in recognition of her work to inspire better futures for young people.
Lawson said: "Waking up every morning, I ask myself the question, how can I, Yvonne, make a difference and change a young vulnerable life." Judges praised the foundation Ms. Lawson set up, which has helped over a 100 young vulnerable people.
The Urbanism Awards, run by The Academy of Urbanism, have this year sought to recognise individuals across society who have gone above and beyond to contribute to better places.
The Mayor of Mechelen in Belgium, Bart Somers, picked up the award for Civic Leader. Minister Somers has helped transform grey and neglected Mechelen into one of the most attractive places in Belgium and a role model for integration.
Minister Somers spoke about cities as "a factory of opportunities and social mobility." "The city can be a place where people get a better life. In these times, that essence, that DNA of a city, is threatened. So good urbanism protects that DNA of a city and strengthens it" continued Minister Somers.
The award for Urban Thinker was given to Anne Power, who is Emeritus Professor of Social Policy at the London School of Economics. Judges praised Professor Power as "an excellent example of someone who started promoting community action in the housing field and went on to becoming a leading academic."
Daisy Narayanan, a senior manager at the City of Edinburgh Council, picked up the award for Civic Servant. Judges said: "Daisy recently joined the council and has led the way in Edinburgh's transformation towards a people-centred city centre." Narayanan said: "None of this is possible – creating vibrant, inclusive, resilient places – without the collaborative work we all do."
Sue Riddlestone, who co-founded sustainable development company Bioregional, was named Urban Re-inventor. Riddlestone was described by the awarding panel as a "creative and resilient leader, who pushed innovation in sustainable living long before it was fashionable."
Riddlestone said: "We have got to half CO2 globally by 2030. We [urbanists] are all in such a powerful position to influence that in our day-to-day work. We are the generation that has got to get this right."
The award ceremony was led by Andrew Burrell who is Chair of The Academy of Urbanism. "Each of the winners has contributed something different to our towns and cities and in turn has inspired countless other people and places to raise their aspirations about what we can achieve. We were truly pleased to recognise not just our five winners, but all 16 finalists and all those that were nominated", said Burrell.
ENDS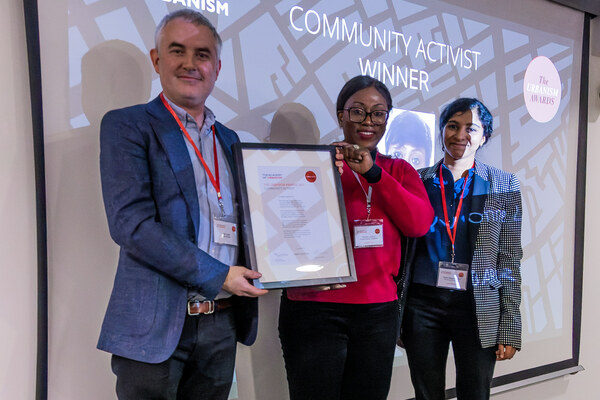 Yvonne Lawson MBE, winner of the Community Activist award, sponsored by Barr Gazetas.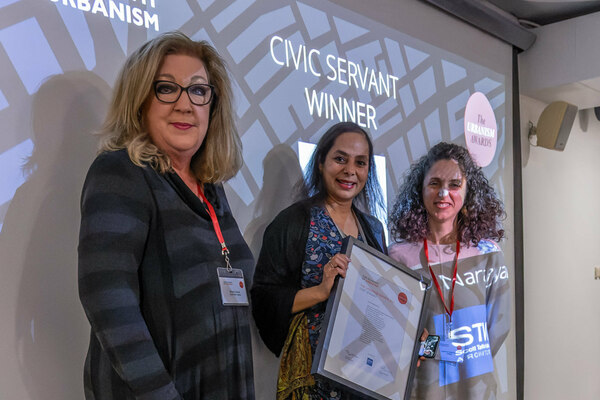 Daisy Narayanan, winner of the Civic Servant award, sponsored by Scott Tallon Walker.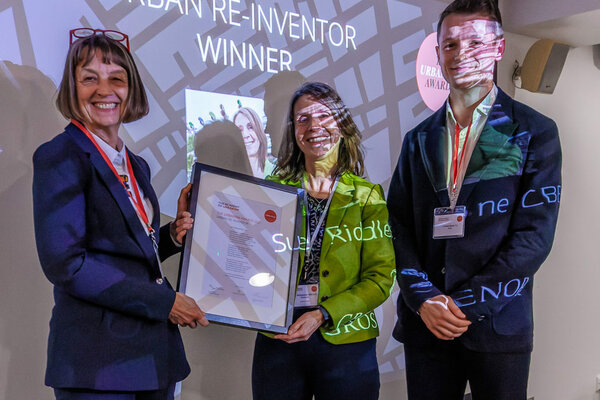 Sue Riddlestone CBE, winner of the Urban Re-inventor award, sponsored by Grosvenor.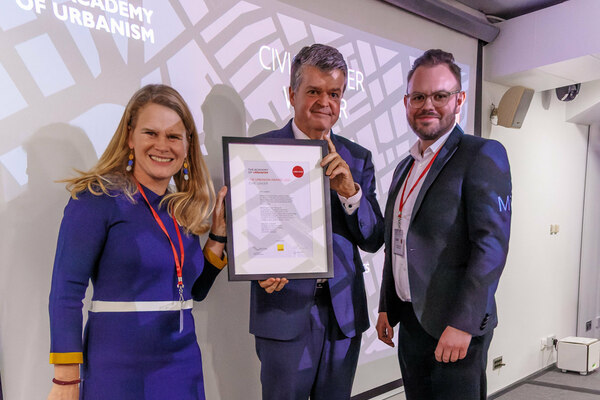 Minister Bart Somers, winner of the Civic Leader award, sponsored by Savills.
More information
The finalists and winner were:
Urban Thinker Award
Sponsored by JTP
Professor Anne Power, Emeritus Professor of Social Policy at the London School of Economics – winner
Professor Greg Clark CBE, Civic Leader, writer, Non-Executive Director and Board Chair
Professor Orla Murphy, Assistant Professor, School of Architecture, University College Dublin
Civic Servant Award
Sponsored by Scott Tallon Walker
Daisy Narayanan, Senior Manager, The City of Edinburgh Council – winner
Dick Gleeson, former City Planner, Dublin
Tina Saaby – City Architect, Gladsaxe
Urban Re-inventor Award
Sponsored by Grosvenor
Dr Nicholas Falk, founder, URBED Trust
Roger Madelin CBE, Joint Head, Canada Water
Sue Riddlestone OBE, co-founder, Bioregional – winner
Community Activist Award
Sponsored by Barr Gazetas
Abdul Malik, politician and community leader (Bristol)
Dr. Kerry Harker, co-founder, The Tetley (Leeds)
Pam Warhurst CBE, co-founder, Incredible Edible
Yvonne Lawson MBE, founder, Godwin Lawson Foundation – winner
Civic Leader Award
Sponsored by Savills
Anuela Ristani, Deputy Mayor of Tirana (Albania)
Minister Bart Somers, Vice Minister President of the Flemish Government (Belgium) – winner
David Cowan, Head of Regeneration, Scottish Government
The Academy of Urbanism is a politically independent, not-for-profit organisation that brings together the current and next generation of urban leaders, thinkers and practitioners.
The Academy works with places to identify and reinforce their strengths, and help them recognise and overcome obstacles to greater success.
Contact
For more information please contact Stephen Gallagher on +44 (0)7840 436844 or email [email protected].